Senior Director, Enterprise Sales (East)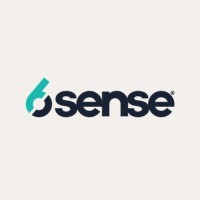 6sense
Sales & Business Development
Remote · United States
Posted on Thursday, February 23, 2023
The Company:
It's no surprise that 6sense is named a top workplace year after year — we have industry-leading technology developed and taken to market by a world-class team. Our CEO Jason Zintak was recognized as the #1 CEO in the small & medium business category by Glassdoor's 2021 Top CEO Employees Choice Awards.
6sense has also won several accolades that demonstrate its reputation as an employer of choice including the Glassdoor Best Place to Work (2022), TrustRadius Tech Cares (2021) and Inc. Best Workplaces (2023, 2022, 2021, 2020, 2019).
6sense reinvents the way organizations create, manage, and convert pipeline to revenue. The 6sense Revenue AI captures anonymous buying signals, predicts the right accounts to target at the ideal time, and recommends the channels and messages to boost revenue performance. Removing guesswork, friction and wasted sales effort, 6sense empowers sales, marketing, and customer success teams to significantly improve pipeline quality, accelerate sales velocity, increase conversion rates, and grow revenue predictably.
About the opportunity:
The Senior Director, Enterprise Sales will build and scale a market leading enterprise sales organization for the East. Reporting into the VP Enterprise Sales, North America, this leader will build and lead a high performing sales team through recruiting, coaching, developing and motivating the West Enterprise organization to overachieve revenue targets.
Your passion for fundamentally changing B2B marketing and sales and ability to think critically about driving customer value-based growth and running our process to drive successful outcomes is a must. This is a unique opportunity to help shape and accelerate our success at 6sense.
In this role, you will:
Hire and develop a team of Enterprise Account Executives and Enterprise Managers

Create situational playbooks and sales plays to land net new deals and expand within customer base

Build tight partnership with Customer Success team, resulting in expansion of Enterprise Segment accounts

Build tight partnership with GTM Enablement team to uplevel critical AE skills/competencies

Overachieve targets on both new business and expansion

Create a winning culture of high performing, and engaged team for Enterprise Sales by achieving below average regrettable attrition and high AE attainment (90%+)
What you'll bring to this role:
At least 15 years of relevant sales experience, with 7 years+ of people management and sales leadership experience

Proven track record recruiting, hiring and on onboarding top performing Account Executives
Experience coaching and enabling with track record of developing A+ talent
Mastery of Force Management (Command of the Message) or similar sales methodology
Advanced in dealing with ambiguity and complexity in order to navigate uncertainly and lead the team through change
Experience with creating sales plans, processes and playbooks with cross-functional partners
Proven cross-functional partnership with Customer Success, Enablement, RevOps, Marketing
Domain expertise specifically within Sales, Marketing and/or RevOps
Proven track record in leading and coaching a high performing team to hunt new business and expand customer accounts
Executive presence in value selling to Enterprise CMOs, VPs, Demand Gen, Marketing Operations, and Sales leaders.
Diversity evangelism and sponsorship
4-year BA/BS degree or equivalent practical experience
Why you're a great fit:
You thrive in a fast-paced, team environment with a high drive for "hunting" new business.

You will use your strategic skills to deal with ambiguity, manage timely decisions, drive vision and purpose, and manage innovation.

Your people skills will build effective teams, resolve conflicts, while developing, inspiring and motivating others.
Your foundational skills include; managerial courage, a drive for results, planning and organizing, ability to problem solve, driving change, managing and measuring work of others, time management and communication.
Base Salary Range: $168,465 to $258,313. The base salary range represents the anticipated low and high end of the base salary range for this position. Actual salaries may vary and may be above or below the range based on various factors, including but not limited to work location and experience. The base salary is one component of 6sense's total compensation package for this position. Other compensation may include a bonus program or commission plan, and stock options if approved by 6sense's board. In addition, 6sense provides a variety of benefits, including generous health insurance coverage, life, and disability insurance, a 401K employer matching program, paid holidays, self-care days, and paid time off (PTO). #Li-remote
Every person in every role at 6sense owns a part of defining the future of our industry-leading technology. You'll join a team where curiosity is prized, no one's satisfied with the status quo, and everyone's all-in on the collective good.6sense is a place where difference-makers roll up their sleeves, take risks, act with integrity, and measure successby the value we create for our customers.
We want 6sense to be the best chapter of your career.
Feel part of something
You'll be part of building tomorrow's tech, revolutionizing how marketing and sales teams create, manage, and convert pipeline to revenue. And you'll be seen and appreciated by co-workers who challenge you, cheer you on, and always have your back.
At 6sense, you'll experience the passion from customers and colleagues alike for our market-leading vision, and you're entrusted with applying your unique talents to help bring that vision to life.
Build a career
As part of a company on a rocketship trajectory, there's no way around it: You're going to experience unparalleled career growth. With colleagues as humble and hungry as you are, and a leadership philosophy grounded in trust, transparency, and empowerment, every day is a chance to improve on the one before.
Enjoy access to our Udemy Training Library with 5,000+ courses, give and get recognition from your coworkers, and spend time with our executive team every two weeks in our All Hands gathering to connect, learn and ask leaders about whatever is on your mind.
Enjoy work, and your life
This is a place where you'll do your best work and inspire others to do theirs — where you're guaranteed to make real connections, for life, along the way.
We want to help you prioritize health and wellness, today and tomorrow. Take advantage of family medical coverage; a monthly stipend to support your physical, mental, and financial wellness; generous paid parental leave benefits; Plus, we have an open time-off policy, so you can take the time you need.
Set for success
A vision as big as ours only comes to life when we're all winning together.
We'll make sure you have the equipment you need to work at home or in one of our offices. And have the right snacks, pens or lighting with our work-from-home expense reimbursement allowance. We also partner with WeWork to make sure that if your choice is a hybrid of home and office, we have you covered in the locations they're offered.
That's the commitment we make to every one of our employees. If this sounds like a place where you'll thrive as you take your success to the next level, let's chat!