Learning Coordinator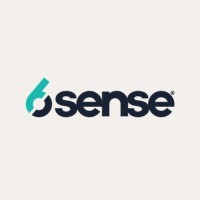 6sense
Administration
Limón Province, Limon, Costa Rica
Posted on Tuesday, April 11, 2023
The Company:
It's no surprise that 6sense is named a top workplace year after year — we have industry-leading technology developed and taken to market by a world-class team. Our CEO Jason Zintak was recognized as the #1 CEO in the small & medium business category by Glassdoor's 2021 Top CEO Employees Choice Awards.
6sense has also won several accolades that demonstrate its reputation as an employer of choice including the Glassdoor Best Place to Work (2022), TrustRadius Tech Cares (2021) and Inc. Best Workplaces (2023, 2022, 2021, 2020, 2019).
6sense reinvents the way organizations create, manage, and convert pipeline to revenue. The 6sense Revenue AI captures anonymous buying signals, predicts the right accounts to target at the ideal time, and recommends the channels and messages to boost revenue performance. Removing guesswork, friction and wasted sales effort, 6sense empowers sales, marketing, and customer success teams to significantly improve pipeline quality, accelerate sales velocity, increase conversion rates, and grow revenue predictably.
What we're looking for:
A key member of the Organizational Development (OD) team responsible for the end-to-end co-ordination of all global internal OD programs, initiatives and events. The ideal candidate is a creative individual who has experience in administering a variety of blended learning solutions (classroom, virtual and online) and support resources. Must be adept at juggling multiple responsibilities while supporting the continued worldwide growth of our OD programs.

In this role, you will:
Work with the Head of OD to identify and support department objectives and training strategies.
Oversee all organizational development initiatives including the coordination of all logistics, materials, and scheduling as necessary
Establish systems and processes to ensure the efficient and effective logistics rollout of learning offerings.
Arrange hospitality, room layout and equipment for participants attending (virtual and) classroom workshops and events, liaise with trainers, booking training rooms, print and distribute course materials and ensure required equipment is available and in working order for the efficient running of all relevant programs
Monitor the OD Team email box and take responsibility for the timely resolution of issues

Coordinate external partner instructor-led training sessions, both virtual and classroom.
Liaise with trainers, print and distribute course materials ensuring all required equipment is available and in working order
Develop and maintain accurate records and processes for all OD activities - including recording and monitoring training completion and program evaluation
Continuously improve our OD intranet (Sharepoint) employee site to reflect program schedules and metrics ensuring that all information contained therein is accurate, up-to-date and regularly maintained.
Support the creation of training materials for OD and People Team programs where learning objectives, content, activities, and evaluation techniques are aligned, cohesive and adhere to adult learning principles.
Manage annual training calendar ensuring timely and accurate updates

Develop and maintain positive, collaborative and productive working relationships with all (internal and external staff/vendors) to sustain the brand of the OD team as a customer focused function.

Assist with periodic reporting as requested.

For example, create and maintain training activity records and produce data metrics as required.

Responsible for the coordination of a range of projects and regular events. This will include producing and keeping updated project plans, arranging meetings and ensuring systems and processes are established and projects delivered to agreed timescales.

Support the Head of OD with ad hoc projects as required.
Attend meetings, take notes and progress actions as required.

What you'll bring to this role:
Required Knowledge and Skills:
Excellent communication, writing, grammar, editing and proofreading skills

Ability to present information clearly and concisely using learning/presentation best practices

Able to work collaboratively and independently

Ability to create and design presentations

Strong organizational and follow-up skills

Ability to handle multiple projects simultaneously

Creative and proactive thinker with a good eye for detail

Demonstrated proficiency with Microsoft Office applications, particularly Word, PowerPoint and Excel, and familiarity with web-based applications
Basic Qualifications:
BS/BA degree in education or learning & development, or other field of study preferred
2-4 years experience administering learning solutions
Preferred Qualifications:
Knowledge of adult learning theories and training evaluation

Experience working with LMS interface

Experience working with learning delivery software solutions (such as Zoom as a training interface)

Delivery of e-learning content to an LMS/LCMS (AICC, SCORM) and online meeting systems

Experience with developing and delivering content for virtual or self-paced learning solutions, such as e-learning, virtual communities, performance support tools, self-assessments, videos, and curated micro-learning
Why you're a great fit:
Every person in every role at 6sense owns a part of defining the future of our industry-leading technology. You'll join a team where curiosity is prized, no one's satisfied with the status quo, and everyone's all-in on the collective good. 6sense is a place where difference-makers roll up
#LI-remote
Every person in every role at 6sense owns a part of defining the future of our industry-leading technology. You'll join a team where curiosity is prized, no one's satisfied with the status quo, and everyone's all-in on the collective good.6sense is a place where difference-makers roll up their sleeves, take risks, act with integrity, and measure successby the value we create for our customers.
We want 6sense to be the best chapter of your career.
Feel part of something
You'll be part of building tomorrow's tech, revolutionizing how marketing and sales teams create, manage, and convert pipeline to revenue. And you'll be seen and appreciated by co-workers who challenge you, cheer you on, and always have your back.
At 6sense, you'll experience the passion from customers and colleagues alike for our market-leading vision, and you're entrusted with applying your unique talents to help bring that vision to life.
Build a career
As part of a company on a rocketship trajectory, there's no way around it: You're going to experience unparalleled career growth. With colleagues as humble and hungry as you are, and a leadership philosophy grounded in trust, transparency, and empowerment, every day is a chance to improve on the one before.
Enjoy access to our Udemy Training Library with 5,000+ courses, give and get recognition from your coworkers, and spend time with our executive team every two weeks in our All Hands gathering to connect, learn and ask leaders about whatever is on your mind.
Enjoy work, and your life
This is a place where you'll do your best work and inspire others to do theirs — where you're guaranteed to make real connections, for life, along the way.
We want to help you prioritize health and wellness, today and tomorrow. Take advantage of family medical coverage; a monthly stipend to support your physical, mental, and financial wellness; generous paid parental leave benefits; Plus, we have an open time-off policy, so you can take the time you need.
Set for success
A vision as big as ours only comes to life when we're all winning together.
We'll make sure you have the equipment you need to work at home or in one of our offices. And have the right snacks, pens or lighting with our work-from-home expense reimbursement allowance. We also partner with WeWork to make sure that if your choice is a hybrid of home and office, we have you covered in the locations they're offered.
That's the commitment we make to every one of our employees. If this sounds like a place where you'll thrive as you take your success to the next level, let's chat!