Director of Customer Success, EMEA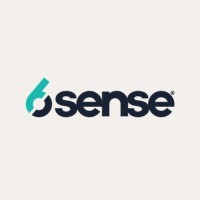 6sense
Customer Service, Sales & Business Development
London, UK
Posted on Thursday, May 18, 2023
The Company:
It's no surprise that 6sense is named a top workplace year after year — we have industry-leading technology developed and taken to market by a world-class team. Our CEO Jason Zintak was recognized as the #1 CEO in the small & medium business category by Glassdoor's 2021 Top CEO Employees Choice Awards.
6sense has also won several accolades that demonstrate its reputation as an employer of choice including the Glassdoor Best Place to Work (2022), TrustRadius Tech Cares (2021) and Inc. Best Workplaces (2023, 2022, 2021, 2020, 2019).
6sense reinvents the way organizations create, manage, and convert pipeline to revenue. The 6sense Revenue AI captures anonymous buying signals, predicts the right accounts to target at the ideal time, and recommends the channels and messages to boost revenue performance. Removing guesswork, friction and wasted sales effort, 6sense empowers sales, marketing, and customer success teams to significantly improve pipeline quality, accelerate sales velocity, increase conversion rates, and grow revenue predictably.
We are looking for customer success driven individuals who have a track record building relationships with customers, protecting and growing their book of business, and managing and inspiring a team of CSMs to be change agents for their customers. We're looking for process-oriented people who have an intrinsic drive to be successful; who have a track record of building customer advocates in technical product environments; who have a passion for B2B buyers, their businesses and what 6sense means to their success and who can think critically about driving customer growth and building our organization. This is a unique opportunity to help shape and accelerate our success.
As the Director of Customer Success, you will be responsible for actively managing the happiness and renewal of a portfolio of assigned 6sense customers throughout the EMEA region. Responsibilities include:
Managing a book of business (~$10M+)

Leading a team of 5-7 CSMs (London-based) and contributing to their growth and success at 6sense.
Becoming a product expert and trusted advisor to your customers

Building and creating customer relationships throughout the org (multi threading)

Working closely with global enterprise customers to ensure 6sense is being adopted into their teams' daily workflow, generating positive ROI and growing lifetime value for 6sense

Maintaining visibility into product performance and customer feedback to communicate with CS and other teams. Work closely with customer and internal teams to resolve issues promptly and minimize customer churn
Assisting customers to promote 6sense service adoption and measure value and ROI.

Identifying areas for customer growth: additional use cases for 6sense data and new business units with revenue potential for 6sense

Building customer advocates who will speak on behalf of 6sense as a reference and share success stories in 6sense events and content

Becoming an expert on the 6sense predictive engine, including implementation and how use cases of 6sense connect to top business goals and requirements

Be an advocate for customers' product feature priorities internally within 6sense and align with product team around driving product roadmap
Partner with sales for pre-sales questions and demos; share customer stories and help develop marketing collateral

Identify opportunities for continuous improvement - within accounts, across CS team and across 6sense

Ability to juggle multiple projects, prioritize, and scale

Build internal relationships, operational excellence
The Director of Customer Success will represent the voice of the customer at 6sense and work closely with internal teams to create a company-wide culture of Customer Success. We are creating a different kind of company. If this sounds like a breath of fresh air and a place where you'll thrive as you take your success to the next level, we should talk!
Your Experience and Skills Required:
8-10 years of Customer Success, Account Management, or Consulting experience, ideally from a high tech or SaaS company, where you developed strategies on assigned accounts to fully leverage technology solutions

Experience managing at least 3 direct reports

Experience for a book of business $7M + - responsible for renewals and upsell/cross sell

Experience working with global 1000 enterprise customers with multiple stakeholders, and managing success program as the key advisor to global as well as regional customer organizations.
Experience advising customers including CxOs on how to best use and adopt SaaS platform for faster Return on Investment (ROI)

Experience working closely with B2B demand gen, marketing operations, sales operations and analytics teams

Have led projects from conception to closure, and have experience leveraging internal resources to get things done.

Familiarity with the marketing tech stack: Marketing Automation, digital marketing technologies, data providers, B2B digital media. Experience using Marketing Automation, CRM or related applications is a plus

Strong analytical and communications skills
BA/BS degree is required

Ability to travel to customer site from time to time.
When you apply to a job on this site, the personal data contained in your application will be collected by Controller, which is located at 450 Mission Street, Suite 201, San Francisco, CA 94105. Your personal data will be processed for the purposes of managing Controller's recruitment related activities, which include assessing your skills, qualifications, and suitability for the role, carrying out background and reference checks, where applicable, and as is otherwise needed in the recruitment and hiring processes.
You may view a copy of Controller's Privacy Notice here: Recruitment Privacy Notice
Your personal data will be shared with Greenhouse Software, Inc., a cloud services provider located in the United States of America and engaged by Controller to help manage its recruitment and hiring process on Controller's behalf. Accordingly, if you are located outside of the United States, your personal data will be transferred to the United States once you submit it through this site. Because the European Union Commission has determined that United States data privacy laws do not ensure an adequate level of protection for personal data collected from EU data subjects, the transfer will be subject to appropriate additional safeguards under the standard contractual clauses.
Every person in every role at 6sense owns a part of defining the future of our industry-leading technology. You'll join a team where curiosity is prized, no one's satisfied with the status quo, and everyone's all-in on the collective good.6sense is a place where difference-makers roll up their sleeves, take risks, act with integrity, and measure successby the value we create for our customers.
We want 6sense to be the best chapter of your career.
Feel part of something
You'll be part of building tomorrow's tech, revolutionizing how marketing and sales teams create, manage, and convert pipeline to revenue. And you'll be seen and appreciated by co-workers who challenge you, cheer you on, and always have your back.
At 6sense, you'll experience the passion from customers and colleagues alike for our market-leading vision, and you're entrusted with applying your unique talents to help bring that vision to life.
Build a career
As part of a company on a rocketship trajectory, there's no way around it: You're going to experience unparalleled career growth. With colleagues as humble and hungry as you are, and a leadership philosophy grounded in trust, transparency, and empowerment, every day is a chance to improve on the one before.
Enjoy access to our Udemy Training Library with 5,000+ courses, give and get recognition from your coworkers, and spend time with our executive team every two weeks in our All Hands gathering to connect, learn and ask leaders about whatever is on your mind.
Enjoy work, and your life
This is a place where you'll do your best work and inspire others to do theirs — where you're guaranteed to make real connections, for life, along the way.
We want to help you prioritize health and wellness, today and tomorrow. Take advantage of family medical coverage; a monthly stipend to support your physical, mental, and financial wellness; generous paid parental leave benefits; Plus, we have an open time-off policy, so you can take the time you need.
Set for success
A vision as big as ours only comes to life when we're all winning together.
We'll make sure you have the equipment you need to work at home or in one of our offices. And have the right snacks, pens or lighting with our work-from-home expense reimbursement allowance. We also partner with WeWork to make sure that if your choice is a hybrid of home and office, we have you covered in the locations they're offered.
That's the commitment we make to every one of our employees. If this sounds like a place where you'll thrive as you take your success to the next level, let's chat!